As someone who has spent countless hours testing various golf gear, practicing on the range, and trying to master the perfect swing, I often find solace in golfing. But let's face it; sometimes, a traditional golfing experience can become monotonous. That's when I turn to Drive Shack and Topgolf. These complexes offer a refreshing and fun take on the sport we all love.
Now, if you're scratching your head, wondering which to pick for your next outing, you're not alone. I've been there, caught in a duel between the two. In this detailed analysis, we're going to delve deep into the nuts and bolts of these two popular golf entertainment venues and figure out what sets them apart.
If You're in Hurry…
We've made a comparison table summarizing the differences between Drive Shack and Topgolf. However, I recommend you continue reading to get more details from our in-depth analysis.
| | | |
| --- | --- | --- |
| Aspect | Drive Shack | Top Golf |
| Type of Driving Range | Semi-indoor | Semi-indoor |
| Golf Ball Tracking Technology | Radar-based TrackMan™ Range | Micro-chipped balls |
| Number of Games | 4 games | 13 total games |
| Games Suitable for Families | Many family-friendly games | More games for novice golfers |
| Cost for Golfing Bay | $25 to $45 per hour | $30 to $55 per hour |
| Cost for Golfers in a Bay | Up to six guests per bay | Up to six guests per bay |
| Number of Locations | 4 locations | 70 locations |
| Food and Drink | Available | Available |
| Beverage Price (example) | Blue Moon draft beer – $6.50 | Blue Moon draft beer – $6.25 |
The Basics of Drive Shack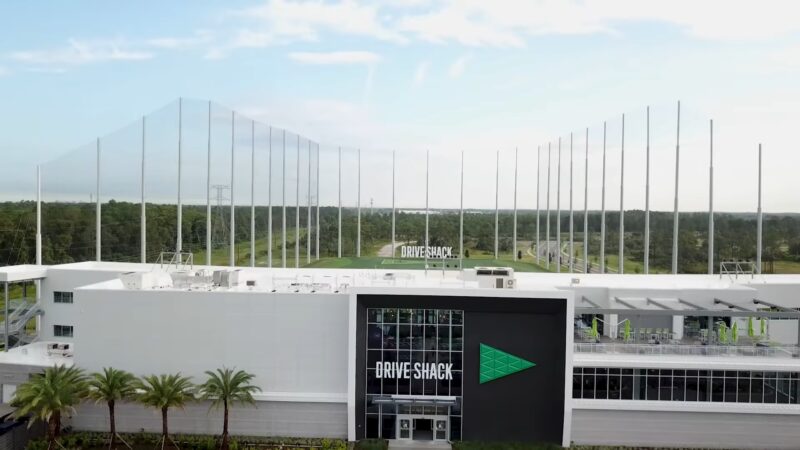 Drive Shack is a modern entertainment company that blends technology, golf, and a social atmosphere to provide a unique, interactive golf experience.
The Concept
Drive Shack is the fusion of technology and traditional golf. You're enclosed in a private bay, swinging real clubs and hitting real balls. But that's where the similarity with old-school golf ends. Each ball is microchipped, and the targets are digitized.
The further the target, the more points you score. In addition to this, Drive Shack also provides various game modes. Whether you're an expert golfer aiming for the furthest target or a newbie trying to hit the closest one, there's something for everyone.
Amenities
Drive Shack is more than just golf. It is a full-fledged entertainment venue with bars, restaurants, and even private meeting rooms.
Spacious climate-controlled hitting bays
Full-service bars and restaurants
Free Wi-Fi and HDTVs
Event spaces for parties and corporate events
On top of this, their staff members are friendly and well-versed in the game, ready to offer tips and help you improve your swing.
The Basics Topgolf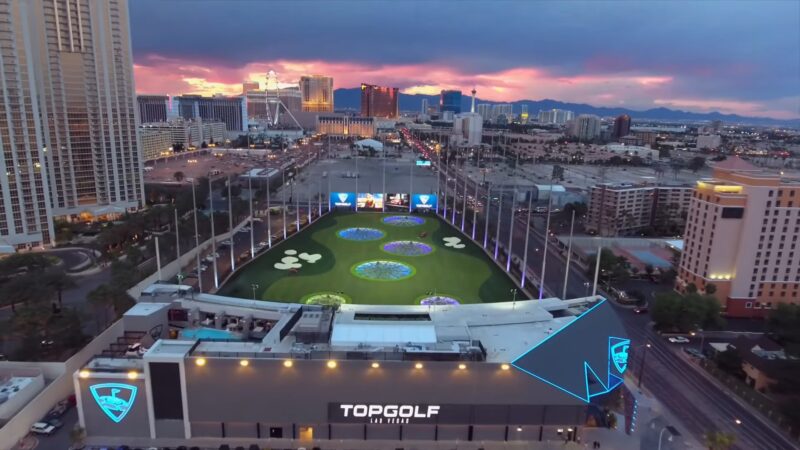 Topgolf takes the golfing experience a notch higher with its advanced technology and impressive venue design.
The Concept
Like Drive Shack, Topgolf also provides an interactive golfing experience where you're hitting microchipped balls at digitized targets. However, Topgolf's uniqueness lies in its advanced technology and gamification.
Topgolf's Protracer technology tracks the flight path of your golf balls, providing instant shot replays and stats. Additionally, Topgolf offers a range of competitive and fun game modes suitable for all skill levels.
Amenities
Topgolf also provides a host of amenities to ensure an entertaining and comfortable golfing experience.
Multi-level hitting bays
An array of food and drink options
Free Wi-Fi and HDTVs
Private event spaces
A rooftop terrace with a fire pit
Topgolf's plush venue is a sight to behold, designed to keep the excitement levels up whether you're golfing or just hanging out with friends.
Comparison
Now that we've looked at both let's draw a comparison.
Golfing Experience
Drive Shack and Topgolf both offer unique golfing experiences. The main difference lies in the technology. While both use microchipped balls and digital targets, Topgolf's Protracer technology provides a more advanced tracking system, enabling you to get detailed insights on every shot.
Conversely, Drive Shack provides a simpler, more traditional feel, which could be preferable for those who like keeping things straightforward.
Venue and Amenities
While both venues offer excellent amenities, the main difference lies in the venue's design. Topgolf's multi-level hitting bays and rooftop terrace provide a more luxurious and upscale atmosphere. On the other hand, Drive Shack, with its spacious single-level bays, might appeal more to those who prefer a simpler and less crowded environment.
The Price Factor
While both Drive Shack and Topgolf offer excellent services and facilities, the cost of these services can significantly impact your decision.
Pricing at Drive Shack
At Drive Shack, you pay for the rental of the bay, not per person. Prices vary depending on the day of the week and the time of day, with weekends and evenings being more expensive.
The advantage here is that the cost can be divided among a group, making it a more economical choice if you're planning a fun outing with friends or family.
Pricing at Topgolf
Topgolf also charges by the hour for bay rental. Like Drive Shack, prices fluctuate based on the day and time. But, generally speaking, Topgolf tends to be a bit pricier than Drive Shack.
However, considering the additional tech features and more luxurious venue, some may find the extra cost worth it.
The Food and Beverage Experience
A significant part of the enjoyment in these venues comes from the food and beverages offered.
Drive Shack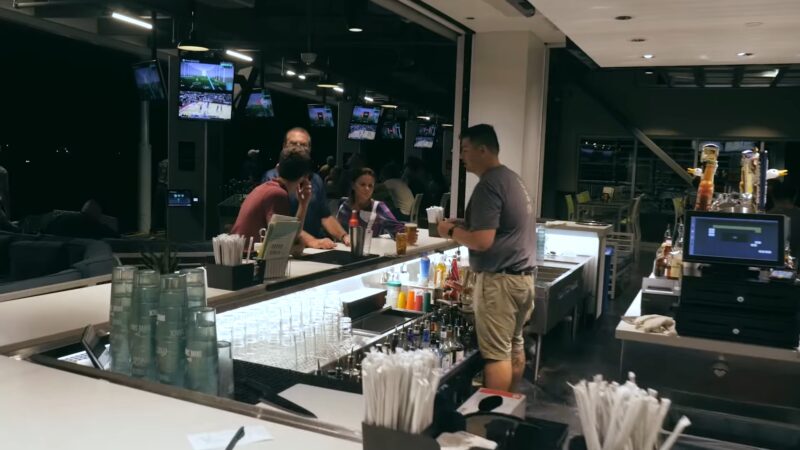 Drive Shack offers a wide variety of food and drinks. You can enjoy everything from classic burgers and fries to salads and wraps.
They also have a full bar with a selection of cocktails, beers, and wines to choose from. Drive Shack has made an effort to create a diverse menu to cater to everyone's tastes.
Topgolf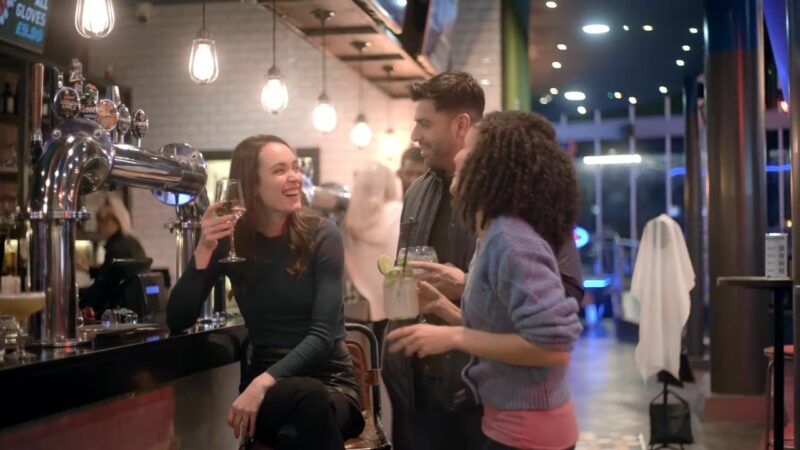 Topgolf also takes its food and beverage game seriously. Their menu ranges from classic American dishes to more unique, chef-driven creations.
Their drink menu is extensive, with a wide selection of cocktails, beers, and wines. Topgolf's menu is a bit more elevated compared to Drive Shack, making it a good choice for foodies.
The Atmosphere
The atmosphere plays a crucial role in your overall experience at either Drive Shack or Topgolf.
Drive Shack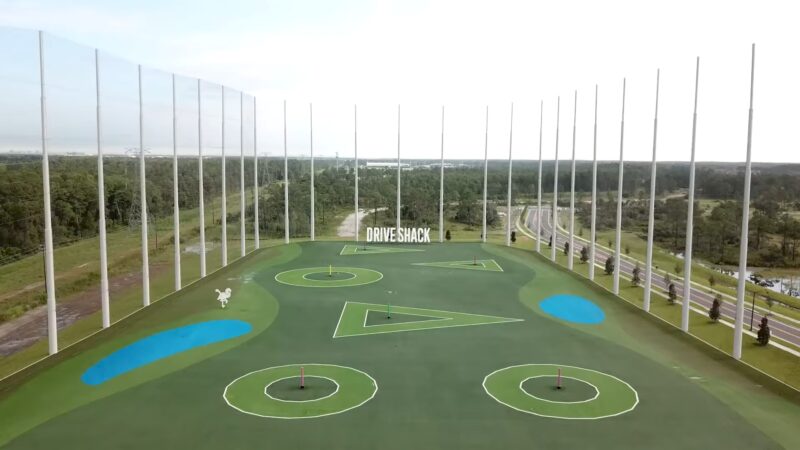 Drive Shack offers a relaxed and laid-back environment. The vibe is fun, casual, and friendly, making it a great place for families or for hanging out with friends. It's also a great place to host events, with private meeting rooms and event spaces available.
Topgolf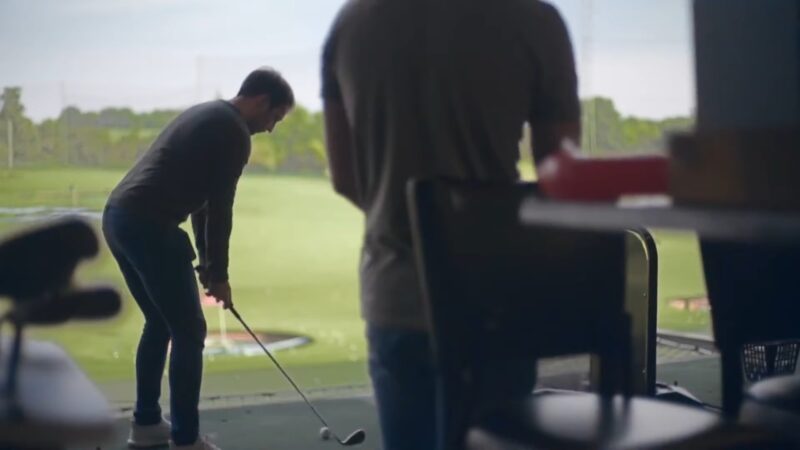 Topgolf, on the other hand, creates a more energetic and upscale atmosphere. With the flashy decor, multi-level bays, and rooftop terrace, the vibe is more club-like. Topgolf often hosts live music events, further adding to the lively environment.
Who Wins?
So, who emerges as the winner in the Drive Shack vs Topgolf contest?
For the Tech-Savvy Golfer
If you're a golfer who loves tech and enjoys tracking every shot in detail, Topgolf, with its advanced Protracer technology, might be the better choice. The multi-level hitting bays and the rooftop terrace also add to the lavish experience.
For the Traditional Golfer
However, if you're a traditional golfer who prefers a simpler, less crowded atmosphere, Drive Shack could be more up your alley. The spacious, climate-controlled bays and the traditional feel might appeal more to your senses.
FAQs
Are there any discounts available at Drive Shack and Topgolf?
Both Drive Shack and Topgolf offer various discounts for memberships, special events, corporate outings, and more. At Drive Shack, you can join the membership program for exclusive deals like discounted green fees or free rounds after a certain number of visits.
At Topgolf, there's a rewards program that gives points for activities like check-ins which can be redeemed for free games or other perks.
Are lessons available at either facility?
Drive Shack provides one-on-one lessons with PGA Professionals as well as group clinics and camps led by experienced instructors in either indoor or outdoor settings; while Top Golf offers virtual lessons with PGA Professionals using swing simulators in their heated hitting bays along with online courses through their website's Learning Center platform.
How do I sign up for Drive Shack?
Visit the Drive Shack website and create your account. You'll be asked to provide some basic information, such as your name, contact information, and billing address. Once your account is created, you can start exploring what Drive Shack has to offer.
How do I become a member of Topgolf?
o become a member of Topgolf, there are two primary methods. The first is to become a Premier Member, which gives you exclusive benefits such as discounts on green fees, access to a wide array of Golf Courses around the world, and complimentary Golf Balls.
The second method is to join as a Golf Member, which grants you access to Topgolf's Golf Network, where Golfers can play at some of the best Golf Courses in the US.
What kind of golfing experience can I expect at Drive Shack and Topgolf?
Drive Shack offers a traditional golfing experience with its outdoor bays and real grass tees. Topgolf, on the other hand, offers a modern golfing experience with its heated indoor bays, over 100 climate-controlled hitting bays, and a variety of golf-based games.
Which is better, Drive Shack or Topgolf?
The choice between Drive Shack and Topgolf depends on what kind of experience you're looking for. If you prefer a traditional golf outing, Drive Shack might be the better choice.
If you're into games, laser tag-style competitions, and a lively atmosphere, then Topgolf might be more your speed. Both offer plenty of fun activities to satisfy every golfer's needs.
Final Words
In the end, both Drive Shack and Topgolf offer unique, entertaining golf experiences. The choice between the two essentially boils down to your personal preferences.
Remember, golf, at its heart, is about having fun and enjoying the game. Whether you choose Drive Shack or Topgolf, the spirit of the game remains the same. So pick up your clubs, head out, and enjoy the modern take on golf!